We are proud to announce our new website
We are proud to announce that, from now on, our new website will be available online and fully operative: more powerful, more attractive and more practical than the former one, able to guide you with extreme simplicity into the world of the several opportunities signed Gragnani.
Despite the emergency due to the pandemic, we would like to underline that 2021 has been a year full of new initiatives, since, after a structural reorganisation that ended up with the establishment of 4 business units (shipping agency, logistics, freight forwarding and customs operations), we decided to embark on a path of digital renewal, starting with the development of a new website.
The new site was created with the intention of showing to our stakeholders not only the services we offer and company details, but also other initiatives such as the sustainability ones.
The functions of the new website are numerous, and the aim of this article is to list them briefly.
Home
Our new home page consists of a 6-item menu on the left side of the screen, with our contacts always visible on the right. From this side of the page you can easily request a quote, directly access our Linkedin page and set English as the reading language.
Services and Business Units
Our services are classified according to the business unit to which they refer, in order to be more user friendly. For the same reason, we have assigned a unique colour to each business unit. The shipping agency, for example, is painted azure, just like the sea on the best coasts of the Mediterranean.
About
In this menu item you will be able to access information about the entire group such as affiliations, certifications, values and our history.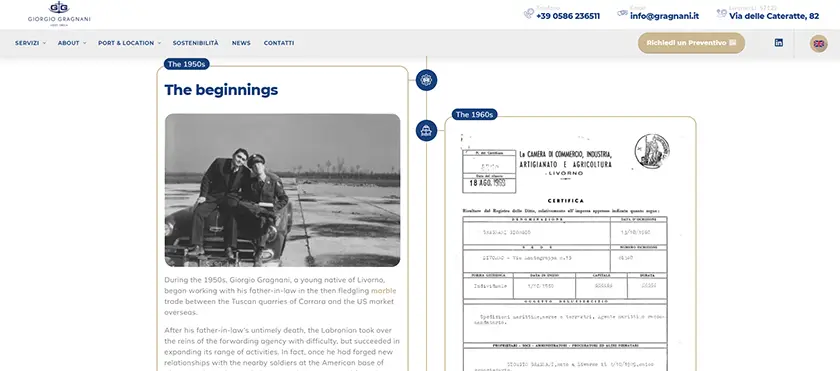 Port & Location
In this section you will find either our assets and the public infrastructures that make Livorno the important city it is for logistics and supply chain.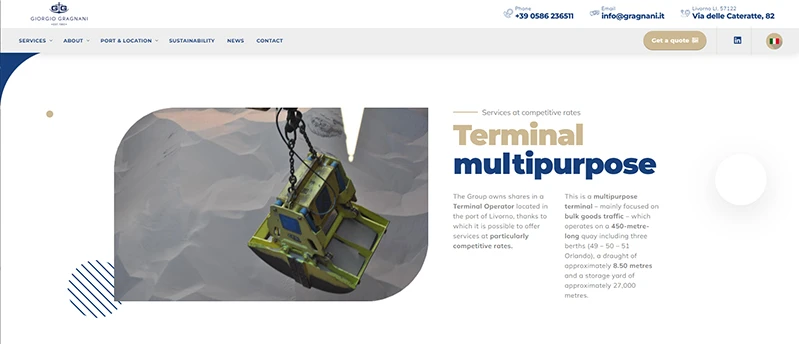 Sustainability
In this menu item you can find the projects related to sustainability, such as our photovoltaic installation which only in 2020 generated about 334 MW.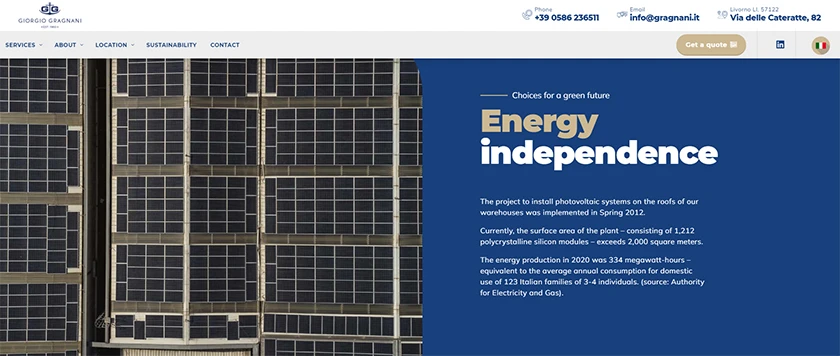 News
The News item groups together all news of various kinds. We announce various columns which will be revealed during the coming year.
Version 2.0
However, we would like to point out that this is just the so-called version 2.0, which is just a starting-point for new updates and other innovations.
In conclusion, we would like to say that we have worked for a whole year to develop a website that best reflects our expertise and best represents our work and the way we do business: with passion, tradition and results oriented.
With best wishes for the new financial year, we wish you all a pleasant web navigation.
Luca Gragnani
CEO at Giorgio Gragnani S.r.l.