Escalating in Ukraine threats gas supply to Europe
The Italian government's priority objective is to reduce dependence on Moscow in the coming weeks. The Port of Livorno is already playing a leading role.
[Reading time: 4 minutes]
At dawn on 24 February, Russia began its military invasion of Ukraine, starting a war on the doorstep of the European Union and NATO.
The EU has responded by adopting four packages of restrictive measures (or sanctions) against the Kremlin, but one of the biggest concerns is the supply of gas, much of which Europe imports from Russia every year.
In fact, Europe imports about 40% of its gas needs from Moscow and in 2021, 26% of these supplies went through Ukraine. Italy is, among European countries, the one that makes most use of natural gas as an energy source.
The energy that Italy consumes each year comes from: 20% renewable sources, 33% oil, 40% gas and the remaining 7% secondary sources.
4.4% of the gas consumed in our country is produced from Italian deposits, the rest (95.6%) is imported from abroad. A consistent amount (13.1%) comes by sea in the form of LNG (Liquefied Natural Gas).
So far Moscow has neither stopped nor limited gas exports to the EU, but considering the escalation of the war in Ukraine, there is a real risk that supplies may change in the coming weeks.
This has prompted the Italian government to move to seek alternative sources and reduce energy dependence on Russia.
The implementation of renewable energies would certainly be one of the best solutions, but with the long lead time and implementation is a feasible solution only in the long run.
If someone wanted to start a discussion on nuclear power, it would have to be considered that this would also take a long time. Another solution, not a short-term one, would be to increase Italian gas production.
Given that supplies could diminish in the coming weeks, the possible solutions on the government's table are only those that have an immediate energy yield. These include:
Using the gas stored in the nine Italian plants: right now there are 17 billion cubic metres of gas stored, equivalent to 23% of Italy's annual needs;
Buying more gas from other countries: this is the direction taken by the Italian Foreign Minister's meetings in countries from which we already import some gas to secure more supplies;
Temporarily reopen coal-fired power stations: there are seven coal-fired power stations in Italy, which used to cover 5% of Italy's energy needs;
Intensify LNG imports: The Biden administration is reportedly using its influence with Qatar, the world's second largest LNG exporter, to bring more LNG to Europe in case we need it.
LNG (Liquefied Natural Gas) is a mixture of hydrocarbons consisting mainly of methane (90-99%).
This is obtained by subjecting natural gas, extracted from fields beneath the earth's surface, to a liquefaction process at a temperature of about -162 °C, which reduces the volume of gas by about 600 times.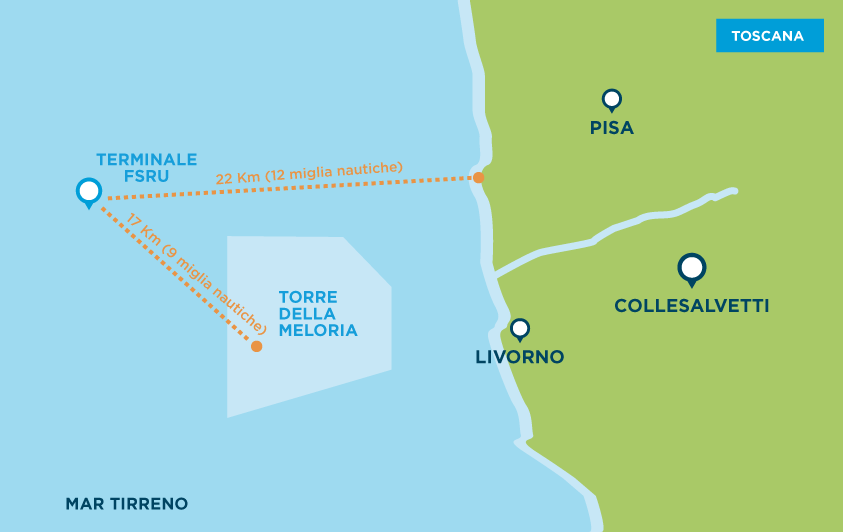 Gas extraction in producing countries
The gas is cooled to a liquid state (LNG) for transport.
LNG carriers transport the gas to consuming countries, allowing them to become independent of the pipeline network.
Through re-gasification plants, LNG is returned to its gaseous state and fed into the gas transport and distribution network.
LNG is a cleaner source of energy that respects the environment and has no impact on people's health. In particular, it generates lower carbon dioxide emissions than most fossil fuels, limited SO2 emissions and virtually zero levels of particulate matter.
LNG also poses no risk of soil, subsoil or groundwater contamination (it has a lower density than water and therefore floats) and produces no harmful waste.
In 2021, Italy imported 9.8 billion cubic metres of LNG: there are three re-gasification plants, located in Panigaglia (SP), Porto Levante (RO) and Livorno.
Did you know that…
The OLT Offshore LNG Toscana re-gasification terminal is located off the coast between Livorno and Pisa.
Consisting of a suitably modified LNG carrier permanently anchored to the seabed, the gas is fed into the National Gas Pipeline Network via an underwater pipeline that reaches the shore and is 36.5 km long, 29.5 km of which are at sea.
The location of the re-gasifier was chosen because Livorno is an adequate port to support the terminal's activities.
In addition, Livorno is in a strategic area in the Mediterranean area for supply, close to the territories where gas is most used: Tuscany is one of the regions that use the most gas.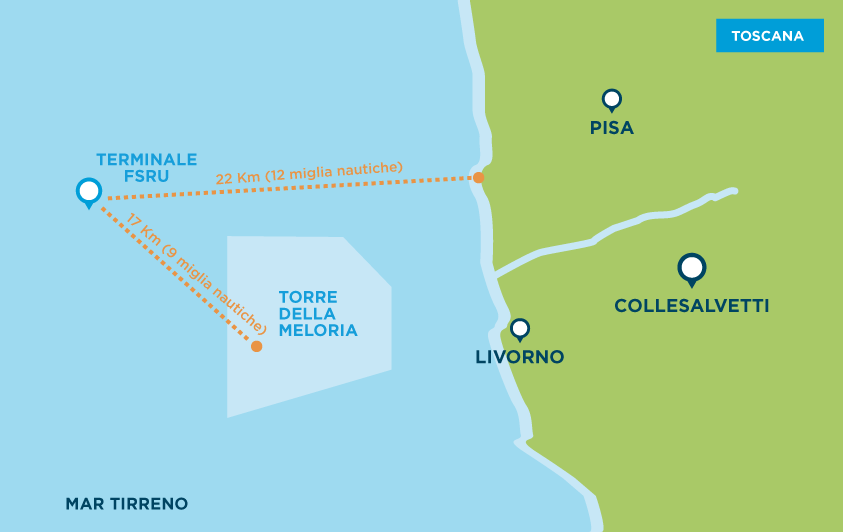 A note from the company OLT, operator of the terminal, reports at the moment the Tuscan re-gasifier is working at full capacity, unloading loads of one ship per week.
The re-gasification capacity is 3.75 billion cubic meters of gas per year, about 5% of Italian needs.
Giorgio Gragnani s.r.l. is following the continuing conflict in Ukraine with concern and hopes that a peace process will prevail as soon as possible.
In the light of events, we believe that it is essential to initiate a decisive process of energy diversification that can guarantee greater stability to the Italian economic system.